Our top 10 free apps from January 2017…
1) NOW Music + Stream Playlists
If you just can't get enough of the latest chart hits, the NOW Music + Stream Playlists app is well worth a cheeky download. Basically, this app lets you listen to the top charts and NOW music albums for free! (Yes, free!)
Oh, and if you're worried that this is one of those free Android apps that kills your data, fear not! You can download playlists while you're connected to Wi-Fi and then listen to them offline when you're out and about. Bonus.
Download NOW Music + Stream Playlists free on Android.
2) Yahoo Answers Now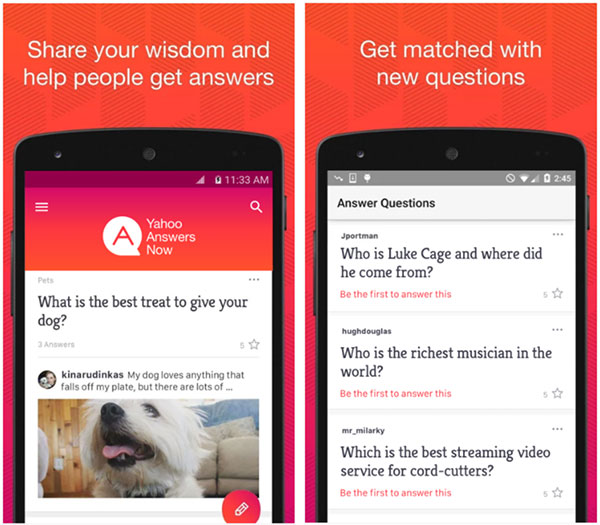 I can't tell you the hours I've wasted trawling through the dark depths of Yahoo Answers. Once you get in there, you'll find that there are loads of weird and wonderful people hiding behind their computer screens and asking some seriously odd questions! For a long time, you could only view these questions in an internet browser, but now Yahoo has decided to give the platform it's very own app.
While you might not always get the answer you're looking for, this app is worth a laugh!
Download Yahoo Answers Now free on Android.
3) Friendly for Facebook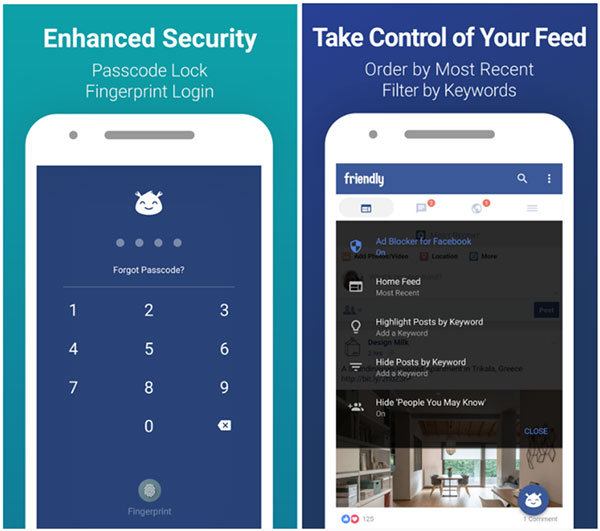 If want a better Facebook experience, here's just the app for you.
Of course, there are quite a few free Android apps that claim to help you view Facebook, but this is honestly one of the best.
The greatest thing about this app is the fact that you can filter your Facebook news feed. So, if you're sick and tired of hearing your friends moan about football, you can use keywords to filter out posts on that subject.
Alternately, if you want to see people chitter-chattering about the Gilmore Girls, you can search using the very same filter.
Download Friendly for Facebook free on Android.
4) Quartz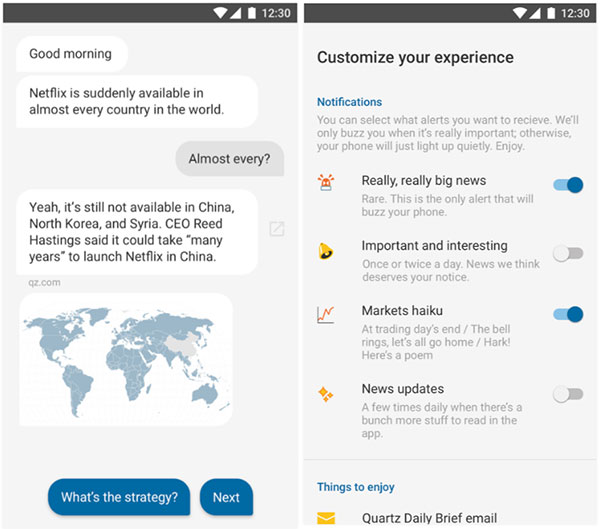 Imagine getting the latest world news text to you every single day. Well, that's what Quartz does… kind of.
The new Android app looks a whole lot like a messaging platform when you first open it. Rather than chatting with another person, though, you're chatting with a computer.
You'll get messages about global news and it's up to you whether you want to find out more or not. If you want more information about a certain topic, you can just reply and ask for it. It may be an odd way to keep up to date with current affairs, but it's certainly original.
Download Quartz free on Android.
5) Knowledge Trainer: Trivia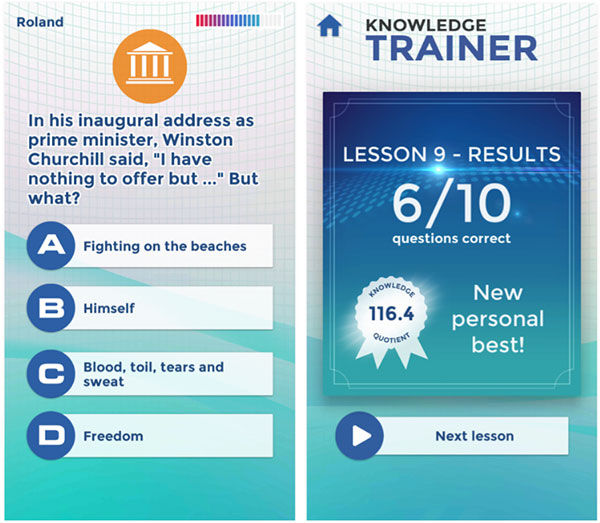 Your brain is a muscle. When you stop using it, it grows weaker and weaker. If you want to avoid that sorry fate, it's worth keeping your mind active on a daily basis.
The Knowledge Trainer: Trivia app can help you do just that. In the free Android app, you get 20 lessons and 200 challenges to complete. You can also select the difficulty level based on your own general knowledge. What that means is that you get to tailor an intelligence course for yourself and use it whenever you so please.
Download Knowledge Trainer: Trivia free on Android.
6) Dancing Line
If you long for a time when phone games were simple and easy to pick up, Dancing Line is certainly the app for you. Basically, you are in control of an ever growing and moving line. Your job is to make sure that it doesn't hit obstacles or stop at any point, which you do by tapping the screen at certain points. If that all sounds way too basic, you're in for something of a surprise. The game actually gets harder the more you play it and there are different levels too! (Hint: Make sure you play this game with the music on as the beat lets you know when to tap.)
Download Dancing Line free on Android.
7) Memory Analysis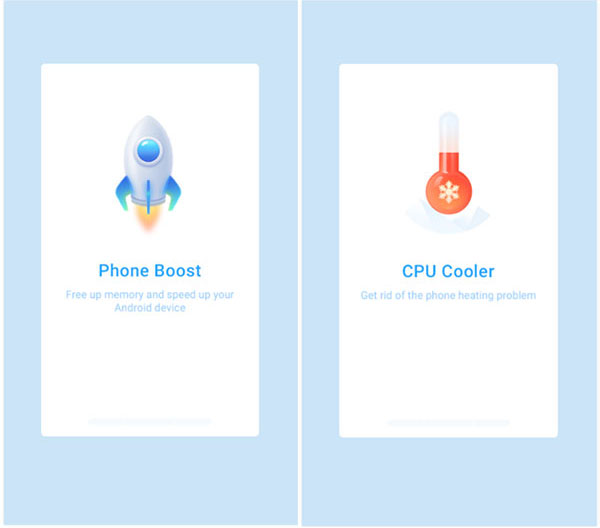 Is your Android phone running a little slower than you'd like? There could be a very good reason for that. You see, you may not realise it but there are often loads of pesky apps running in the background of your phone. It doesn't matter whether you have them open or not, they could still be active anyhow! That's where Memory Analysis comes into play. This app helps to speed up your device simply by "killing background processes and tasks". If your phone overheats as well, this app claims it can also solve that problem too.
Download Memory Analysis free on Android.
8) Clip Layer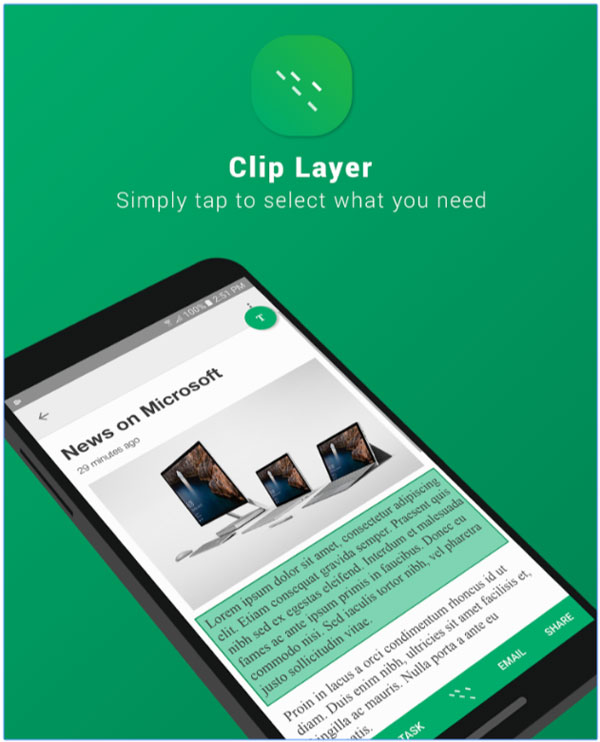 This nifty little copy and paste app is perfect if you're always saving things to read later or even to cite as part of an essay or document. Basically, it allows you to highlight text on your phone and save it to a so-called 'Wunderlist'. Once you've done so, that text will be available across a range of devices, including your laptop. For example, if you see a useful quote you'd like to save in an article, you can copy it and paste it to the list. When you go on your laptop next, you will have easy access to that quote.
Download Clip Layer free on Android.
9) Trusted Contacts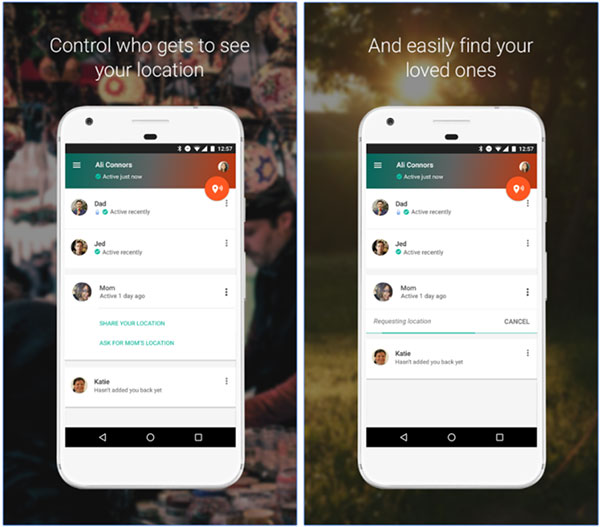 This personal safety app might just save your life one day.
Created by the masterminds at Google, Trusted Contacts is a free Android app that shares your exact location at all times with your 'trusted contacts.' For example, you might want to give your partner access to your whereabouts to make sure you get home safely after a night out.
Okay, I'll just come out and say it. The idea of someone knowing your whereabouts at any given time is honestly very creepy but that doesn't mean that it's not useful and potentially life-saving.
Download Trusted Contacts free on Android.
10) Coloring Book for Me & Mandala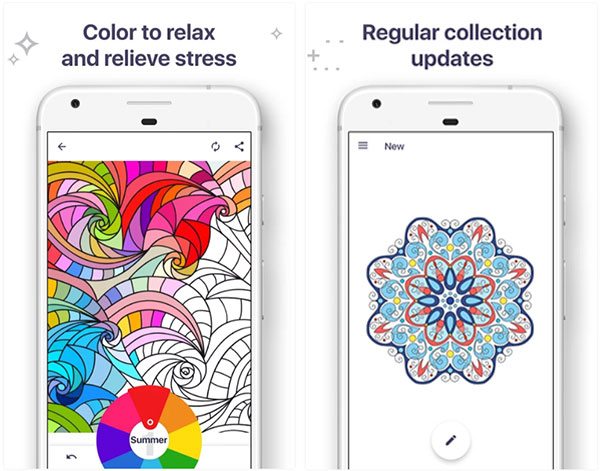 Colouring has been a massive fad for quite some time now. It's no longer odd to see a fully grown human being sitting down and colouring in. If you don't fancy carrying a colouring book around with you at all times, here's a new Android app that might just fill the void.
Coloring Book for Me & Mandala is an interactive app that allows you to colour in pictures of animals and beautiful designs simply by tapping the screen.
Download Coloring Book for Me & Mandala free on Android.