Fast, convenient and super secure. You'll love Apple Pay.
Apple Pay is one of our favourite iPhone features. It lets you make secure purchases in shops, apps and online, without your bank card being present. That's because your details are stored safely on your iPhone. And just as you verify card payments with a four-digit pin, Apple Pay requires your fingerprint to complete a transaction.
It's really simple to set up, and even easier to use. Here's how…
Add a Bank Card to Your iPhone
To do so, you'll need…
Next, follow these four steps…
1) Open the Wallet app and tap Add Credit or Debit Card.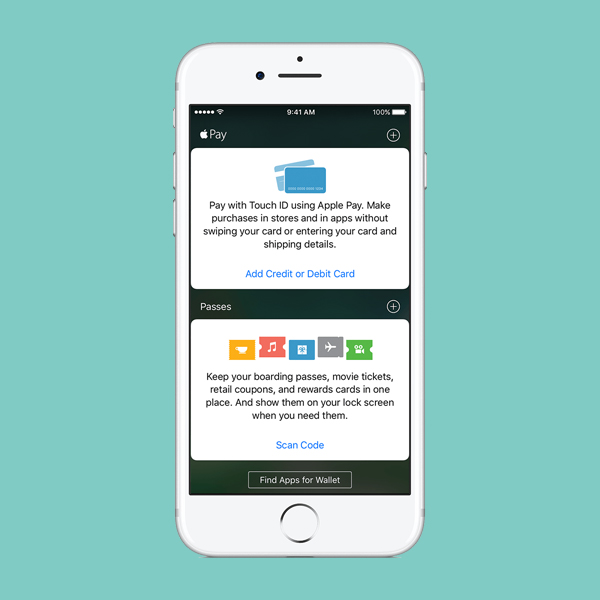 2) Follow the on-screen instructions. You might be asked to add the card you've registered with iTunes, enter the security code.
3) Once prompted, tap Next, and your bank will attempt to verify your information. If you get asked for extra details, you can add them by going to Settings > Wallet & Apple Pay.
4) Once your card is verified, tap Next. You're now ready to use Apple Pay!
How to use Apple Pay
After you've set Apple Pay up on your iPhone, you can start using it in thousands of high street shops across the UK. Anywhere that accepts contactless payments also supports Apple Pay.
To use it, place your registered finger on the Touch ID button, whilst holding your iPhone within an inch of a contactless reader. When the transaction completes, you'll feel your iPhone vibrate and see a Done message on screen. It's that simple!
Participating Apple Pay Banks (UK)
American Express, Bank of Scotland, Barclaycard, Barclays, boon. by Wirecard, Cash Passport (Raphael's), Clydesdale Bank, Cornèrcard UK, Cumberland Building Society, Danske Bank, First Direct, Halifax, HSBC, John Lewis Finance, Lloyds, M&S Bank, MBNA, Metro Bank, Nationwide Building Society, NatWest, Royal Bank of Scotland, Santander, Starling Bank, Tesco Bank, The Co-operative Bank, TSB, Ulster Bank and Yorkshire Bank.