Here's what you should know about this Chinese megabrand!
What does the name Oppo mean to you? If you've never heard of this up-and-coming brand before now, you're in for a treat. The Chinese megabrand is currently making some of the best (and most affordable!) smartphones on the market.
The brand was one of the 'official suppliers' of Wimbledon 2019, with the sporting event's head photographer having worked with an Oppo phone to capture some of the action. As if that wasn't exciting enough, the company is also one of FC Barcelona's official Global Partners, a deal that will last for the next three football seasons at least.
So, what's the big deal when it comes to Oppo? Well, you've come to the right place. Let's take a look at four of the manufacturers' smartphones and why you might love them.
Oppo Find X
Boasting an absolutely stunning, no-bezel design, the Oppo Find X is a killer device. The smartphone comes with a massive 93.8% screen-to-body ratio, which means that it's all about the display here. It has an uber glossy back and comes in either Bordeaux Red and Glacier Blue, depending on your preference.
Thankfully, this isn't merely a good-looking phone. It's also a powerful one. On the inside, you've got a whopping 8GB RAM, which should mean that it's a speedy device. Combine that with a 3730 mAh battery pack and the VOOC Fast Charge feature, and you're sure to be onto something of a winner.
When it comes to the cameras, the phone doesn't drop in quality at all. On the rear, there's a 16MP and 20MP lens combo, which should mean that you get stunning photography. The selfie camera is a huge 25MP offering too. Want a selfie that will dominate Instagram? There are also beautification features here, such as facial slimming and teeth whitening.
Oppo Reno 5G
The world of smartphones is changing. Modern-day devices have to be ready to offer the next generation of mobile internet. If you're hoping to get your hands on a snazzy 5G-ready smartphone, you can't go far wrong with the Oppo Reno 5G device, which is available for pre-order right now.
The premium smartphone offers an 'uninterrupted screen experience', which basically means that there are hardly any bezels. There's a 93.1% screen-to-body ratio with a 6.6.-inch display too. The phone is available in Ocean Green with intricate gloss detailing.
The camera game is seriously strong too. There's a natural AI beautification feature, which means that your selfies and portraits will always be on point. The triple lens setup includes a 13MP telephoto lens, an 8MP wide-angle len and a massive 48MP ultra-clear main camera lens. There's also image stabilisation and Ultra Night Mode 2.0.
Here's where things get interesting! The selfie camera, the front light and the rear flash are all held inside a rising structure that pops out of the phone. The movement happens in less than a second and is completely silent. Snazzy stuff.
Oppo RX17 Neo
Looking for a super affordable offering? You might just find it in the Oppo RX17 Neo. The smartphone has a plastic coating, which actually has the appearance of glass. There's a 6.41-inch Super AMOLED screen along with a cute teardrop notch at the top.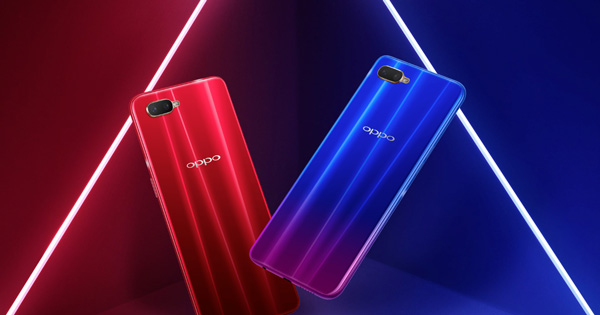 Despite the low price tag, the phone does come with some rather high-end features. For example, there's the in-screen fingerprint scanner. The Oppo RX 17 Neo also has excellent stamina and an impressive 3600 mAh battery pack too.
So, what about the camera setup? On the rear of the phone, there's a dual camera setup, offering a 16MP and 2MP phone combination. However, it's the selfie cam that is the star of the show here with a 25MP lens. You should get a load of detail when snapping away.
Oppo RX17 Pro
Taking the next step up, there's the Oppo RX17 Pro. The smartphone has an almost bezeless design and is available in an Emerald Green and Radiant Mist casing. The front sports a 6.4-inch OLED screen with 1080 x 2340 resolution. Plus, on the rear, there's a pretty minimal design apart from the line of lenses and the logo.
The device has one of the best cameras for night-time shooting. The back camera has three sensors and includes a 12MP camera, a 20MP sensor and a TOF 3D camera. What's more, there's the 25MP front camera and the AI beatification features too.
The Oppo phone also has some impressive charging here too. It comes complete with a Super VOOC charger, which means that you can juice it up quickly. There's also 8GB of RAM combined with 128GB of storage too. It's quite the phone!