After months of hype, Windows 10 has finally been released! Join us as we take a look at Microsoft's new operating system, both in the present (at the desktop version available now) and the future (the mobile version coming later in the year)…
After months and months of teasing, the era of Windows 10 has finally begun! It marks Microsoft's big push to unify their operating system across multiple platforms, to provide one big interconnected experience for its users.
The two big areas are, as you might expect, desktop and mobile. So, let's take a look at them both, and see what's what…
Windows 10 for mobile features
The whole point of Windows 10 is interoperability; the best way to think of it is that Windows 10 is basically one operating system, with two different versions on mobile and desktop.
From a developer point of view, that means that apps made for Windows 10 can easily be ported between desktop and mobile devices.
Naturally, that means you should see lots more apps on your Windows 10 phone, directly ported from the PC, with the two versions sharing the same interface.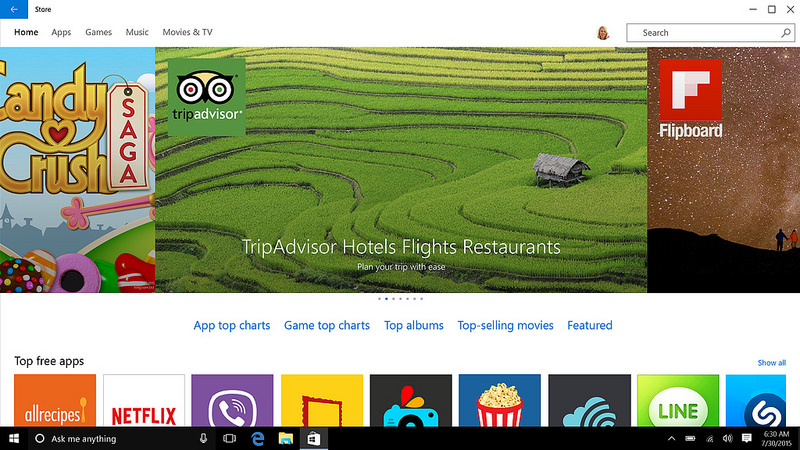 However, there's much more to this interoperability lark than just easier porting of apps; one really cool feature is that notifications are synced across your PC and your phone, and dismissing a notification on one will dismiss it on the other.
You can also expect to see Microsoft's "Continuum" concept making an appearance. We'll go into more detail on what that is in a second, but for now, suffice to say that if you plug your Windows 10 phone into a big monitor, the interface will scale up into a kind of PC-Lite interface, complete with mouse and keyboard support.
It won't be quite the same as carrying your PC around in your pocket, but what's surprising is how close it is to being just that!
Finally, you can expect to see a brand new version of Office Mobile, based around the version seen on Android and iOS; it will include new versions of Office and a new version of Outlook, and you'll also see a new browser in there (Microsoft Edge, replacing Internet Explorer Mobile).
Windows 10 for mobile handset compatibility
If you like the sound of that, your next question is probably: will my Windows phone be able to Windows 10?
The answer is: hopefully. Microsoft has said that they are planning to make it available for every Windows Phone.
Although, based on the hardware specifications, Microsoft probably means every Lumia phone that can run Windows Mobile 8, has a screen resolution of 800×480 pixels, and features at least 512MB of RAM). But the first target is the majority of Lumia phones on the market.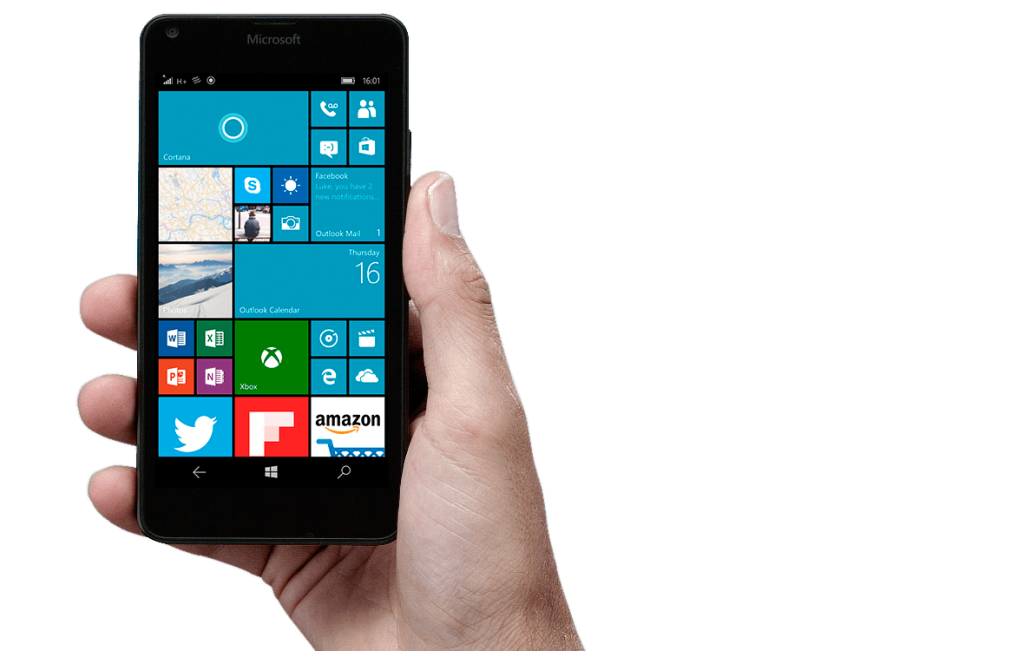 So, modern Lumia phones are covered, but what about phones made by other companies, like HTC or Samsung? Well one non-Microsoft phone is definitely compatible already: the HTC One (M8) for Windows.
When it comes to other third party phones, it will be a case of which manufacturers play ball, so at the moment, it's very much a case of "watch this space"…
Windows 10 for mobile release date
So, when will you be able to update your phone to Windows 10? That's where things get a little murky, as the simple answer is that Microsoft hasn't actually told anyone yet.
The only information anyone has is that it's due to land later in the year, although the likely timeframe seems to be somewhere from September to November.
Again, keep your eyes on this space…
How do I get Window 10 for mobile and what does it cost?
Quite simply, if it follows the pattern set by Windows 10 for PCs (and there are strong hints that it will), Windows 10 will be a free upgrade for smartphones!
If it also follows the pattern set by previous Windows Phone updates, it will simply be a case of tapping the notification that comes up onscreen, and following the steps to install it to your device, although we'll have more info on this when Microsoft publishes it.
If you want to get in on the Windows 10 revolution now (and get a head start on all that interoperability goodness), you'll be wanting to get yourself Windows 10 for your PC, so let's also take a look at that…
Windows 10 for PC features
We've already talked about interoperability, so let's look at some of the biggest PC-specific features of Windows 10. We'll start with the biggest, which is, technically, if one goes only by version numbers, a downgrade:
Glory be, the Start Menu is back!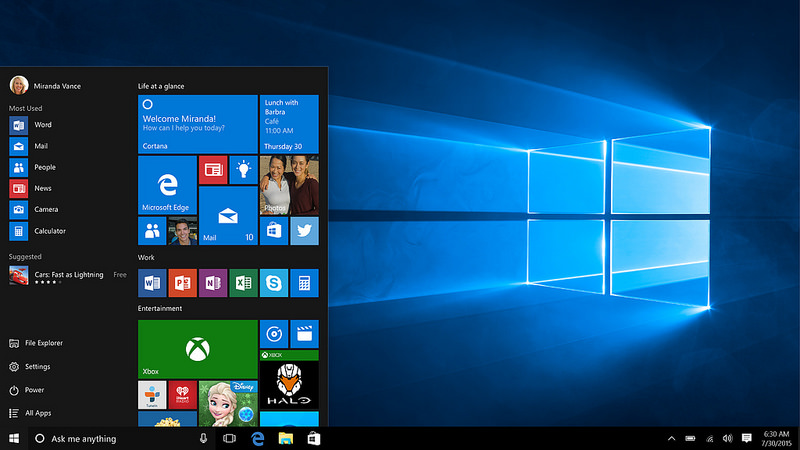 If there was one thing about Windows 8 that made everyone throw their toys out the pram, it was the lack of a Start button, and the insistence on everything being done through a tablet-like Live Tiles interface.
That's brilliant for tablets, but distinctly less than pleasant on desktop PCs, so the triumphant return of the Start Menu is a very good thing indeed (and Microsoft has worked the Live Tiles into it, making it even better).
However, the tablet-esque interface still exists, and it's here where we come back to the Continuum concept mentioned earlier; Windows 10 can scale and adapt its interface based on what type of device you're using, and how you're using it.
Plug a keyboard and mouse into a Surface tablet running it, for example, and it will prompt you to switch from tablet view to desktop view.
Oh, and expect to see Cortana, Microsoft's virtual assistant, popping up on your PC; she's made the jump from phones to desktops, and is just as brilliant as ever!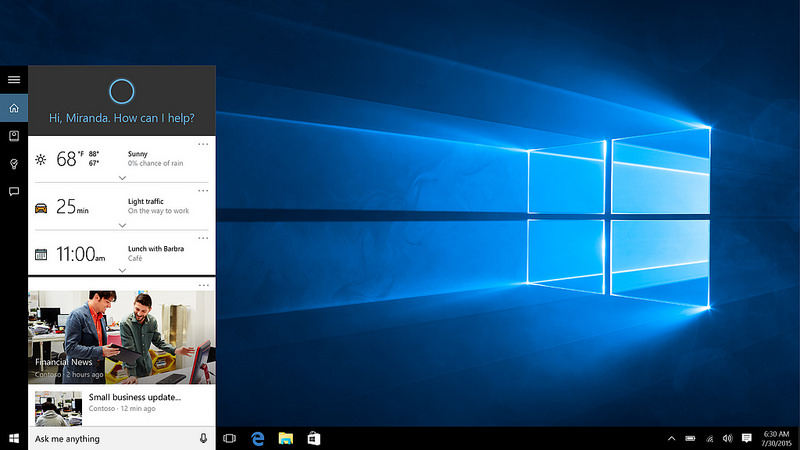 She'll be joined by the same new browser found in mobile versions, Microsoft Edge, a standards-compliant browser which will make web designers lives so much simpler.
Oh, and if you have an Xbox One, you can play games remotely on it, through your Windows 10 PC. That's very cool indeed.
Windows 10 release date
The simple answer? Now. Windows 10 is available now (although it's being punted out to Windows Insider testers first, followed by everyone else).
How do I get Windows 10 for PC and how much does it cost?
Are you ready? Because here comes the best part…
Do you already own a genuine copy of Windows 7 or Windows 8.1? Well then, for the first year of availability, you can upgrade to Windows 10 for free!
If you are using a genuine version of either of those, then an upgrade icon should appear in your system tray; click on that, and you'll be able to upgrade to Windows 10 for the grand total of absolutely nothing whatsoever.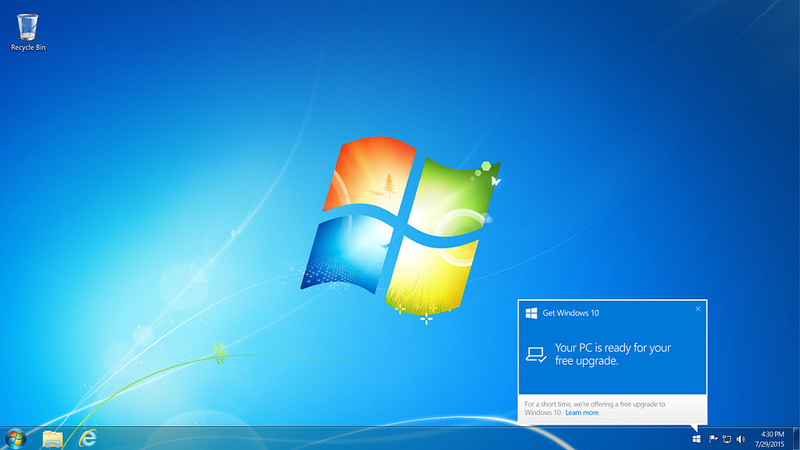 The price for a new copy of Windows 10 (if you're going for a new install on a new PC, for instance) will depend on which version you go with: the prices currently listed online are around £80 for Windows 10 Home and £140 for Windows 10 Pro.