It looks as though Apple has broken the habit of a lifetime by beginning selling one of its products unaccompanied by the avalanche of hype we've come to associate with the firm.
A 7.9-inch iPad Mini stealthily appeared on the Cupertino firm's online store this morning (Tuesday 12 November) after the site went offline for a few hours, a move that experience tells us Apple makes each time it makes a new product available to the tech-hungry hoards of i-Fanatics.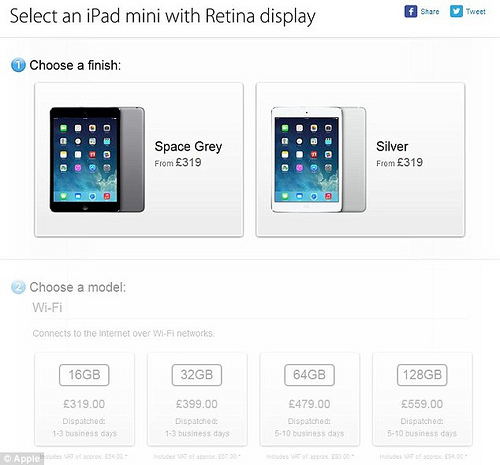 The mystery shrouding the device sale is especially surprising given that Apple only announced the iPad Mini 7.9 and larger iPad Air at the end of October and wouldn't give a concrete date for the tiny i-Slate to hit shelves.
Whilst the iPad Air was made commercially available a couple of weeks back, Apple was recently reported to be suffering supply issues for the smaller device. Taking into consideration both this and the fact that Tim Cook's lot usually like to pull out all the stops when it comes to marketing campaigns for a new product, makes this development all the more astonishing.
Still, Apple CEO Tim Cook did say at the time of launch that a smaller tablet would go on sale 'sometime in November', and he's kept his word. Who knows, perhaps Apple kept quiet as it didn't want people pitching tents outside its stores?
According to Apple's online store, the second-gen iPad Mini's are available in 16GB and 32GB variants and come with LTE support and improved Wi-Fi capabilities. An A7 chip, the very same that debuted in the iPhone 5 nestles under the hood also, all for the bargain price of £319.