Spoiler: The concept is awesome!
The future is foldable. A couple of weeks ago, the powers at Samsung announced one of their most exciting smartphones to date as part of its Unpacked event.
Yes, the brand is soon to launch the much-awaited Galaxy Fold; a true phablet that you can fold into either a 4.6-inch device or a larger 7.3-inch tablet. That's not all.
Huawei has also got in on the action here, releasing the Mate X. The Chinese company's version of a foldable smartphone works in a similar way. Sporting a precision-engineered hinge, the phone can fold flush into itself. All in all, it's a neat looking machine.
With these two major brands releasing foldable devices, the obvious question has to be: when is Apple going to get on board?
While there have previously been rumours that the company is working on a foldable device, nothing concrete has been confirmed. However, luckily for us, we recently got a glimpse of how a foldable iPhone could look.
iPhone X Fold Concept
Can you imagine a foldable iPhone? Now you don't have to.
Recently leaked pictures seem to show how a design from the major brand may work. The concept render was created by Dutch designer, Roy Gilsing, for the publication Foldable News. Much like other foldable devices, this one appears to bend on a hinge in the middle of the larger screen.
The snazzy looking phone would have two displays – a 1:3 aspect ratio as the tablet screen and a foldable display with a 2:3 aspect ratio.
If you popped this particular design next to the likes of the Huawei Mate X or Galaxy Fold, it certainly would not look out of place. However, there are some flairs that look positively Apple-esque, such as the classic notch.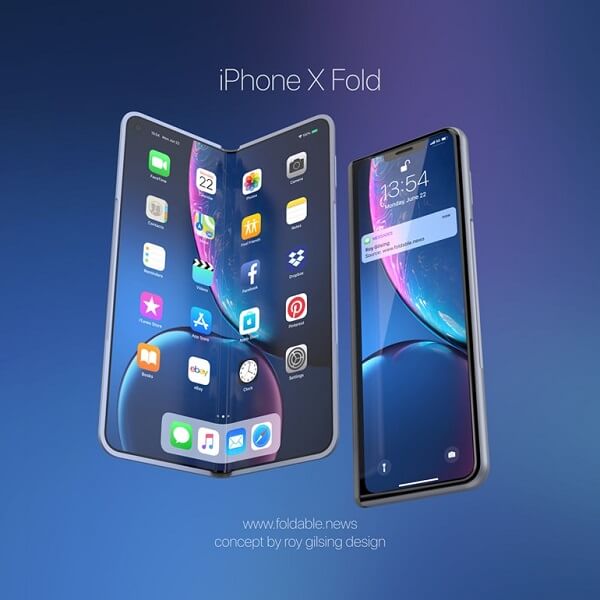 Perhaps one of the most interesting aspects of this particular design is how it could be used. One of the rendered images shows the foldable device being used much like a laptop, with the hinge at a 90-degree angle and the bottom half acting as a keyboard.
Of course, it's worth pointing out that this design has absolutely nothing to do with Apple.
It is merely a concept, created by a third party. Gilsing was asked to imagine the design for Foldable News and, as a result, came up with a plausible look. Still, it's impressive.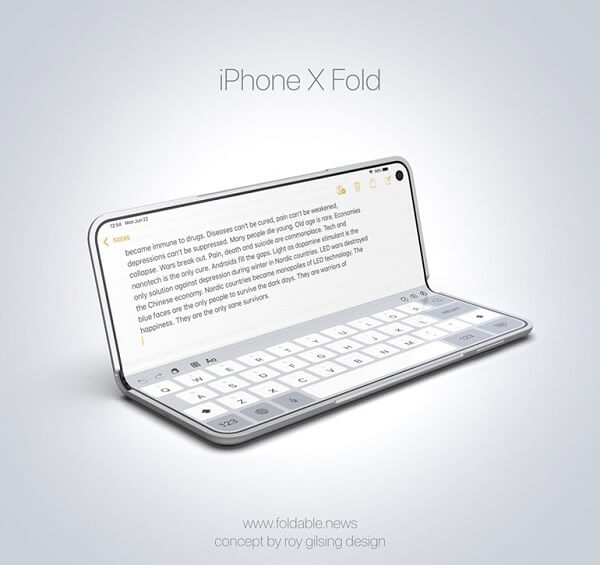 Your Move, Apple!
So, what does the future hold and can we see a foldable iPhone in our crystal balls?
Well, what happens next is entirely up to the good folk in Cupertino. Until now, no one from the company has officially announced anything. So, we can't actually be sure what they have up their sleeves.
However, with other leading brands launching foldable devices, it wouldn't be outlandish to expect Apple to follow suit.
In the meantime, why not check out our awesome iPhone deals via the banner below.